Follow me on Twitter @WarraichRoop
A lot has changed since this iconic picture was taken at the end of the 2010-11 NHL season that saw the Boston bruins emerge as Stanley Cup champions. Players have come and gone, but the Bruins have still remained a contender these past two seasons. They have always been in the discussion of Stanley Cup contenders, and will be again this year. Although Boston has been a contender these past couple of seasons, rarely have they been anyone's favorite to hoist the best trophy in all of sports. This spot is usually occupied by the Pittsburgh Penguins, Chicago Blackhawks, LA Kings and Vancouver Canucks. But, all of this changes this year as the Bruins are the favorites.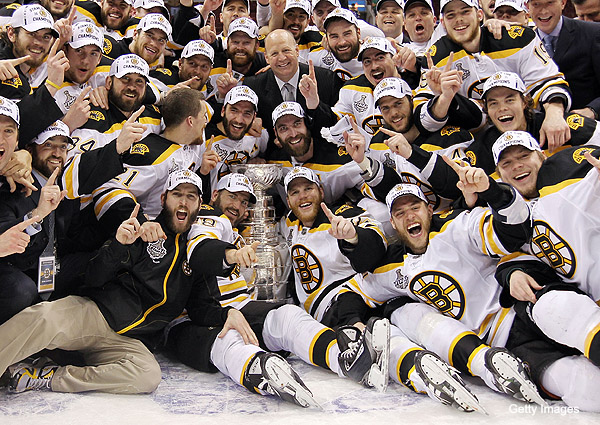 Although things have changed since 2011, the Bruins have done an amazing job of keeping their core in tact. The likes of Zdeno Chara, David Krejci, Patrice Bergeron and Milan Lucic are still present and have only gotten better. Patrice Bergeron and Brad Marchand both had solid regular season performances. They were both in the top ten in the NHL in plus-minus, had more than thirty points and played great defensively the whole year. Bergeron finished the season with 32 points in 42 games and was a +24. Marchand also had a good year with 36 points in 45 games and was a +23. The same cannot be said for Milan Lucic and David Krejci. The regular season was tough for these two as they struggled to find chemistry and generate offense. Claude Julien often split up the Krejci line because things weren't clicking. Zdeno Chara's regular season was also mediocre at best. He racked up 19 points in 48 games. Not a bad year, but it clearly wasn't his best either. Heading into the playoffs the Bruins weren't playing very well and looked like a very shaky team, but then it all changed.
Lead by Patrice Bergeron and David Krejci, the B's came out flying. Sure they had some difficulties finishing off the Leafs, but they finally began to click and it showed. Krejci lead the playoffs in points, seven ahead of Patrick Kane with one less game played. The Lucic line was finally clicking. Lucic woke up and gathered up 19 points in 22 games and was finally his old self again. Lucic and Krejci were phenomenal, but it can be argued that Patrice Bergeron was even better. Sure he only had 15 points in 22 games, but he contributed in so many ways. Asides from being an offensive threat, Bergeron was sound defensively, a great penalty killer, and unstoppable in the faceoff dot; he won 61.5% of his faceoffs. Although all these are great qualities in a player, it has been expecteed from Bergeron. What wasn't expected was for him to play through a torn cartilidge, a hole in his lung, broken ribs and a separated shoulder in Game 6 of the Stanley Cup Finals.Talk about heart. Patrice truly emerged as the leader of this Bruin's squad. Boston may have lost the Cup, but they sure were on top of their game. Expect things to stay like this next season. With the Krejci line finally clicking and the Bergeron line getting better and better, the East better watch out.
The Bruins have obviously done a marvolous job in keeping their core in tact, but no NHL team can win without a solid goaltender, cue Tuukka Rask. The Finish netminder has been consistently getting better since taking over for Tim Thomas as Boston's starting goalie. Tuukka had a great regular season last year. He finished among the top 6 in both save percentage and GAA. Rask ended the year with a 2.00 GAA and a .929 Sv%.Not too shabby. Even though this numbers are great for any goalie, Rask wasn't satisfied. He stepped his game up in the playoffs and got even better. He had a top 5 GAA of 1.88 and had a stellar Sv% of .940. His Sv% was better than the likes of Craig Anderson, Henrik Lundqvist and Jonathan Quick. What makes Tuukka's stats even more amazing is the fact that he appeared in more playoff games than any goalie except for Corey Crawford who played one more. The fact that Rask played superb and consistently superb is a great sign for the future for this Bruins team. Expect Tuukka to continue to grow, develop, get even better and blossom into one of the best goalies in the league.
As if the B's weren't already scary enough, get this, they've gotten even better over the offseason. The acquisitions of Loui Eriksson and Jarome Iginla will do nothing but improve an already scary Bruins roster. Although adding these two players did cost the departure of Tyler Seguin and Nathan Horton, it will be well worth it. The B's were having many problems with Tyler Seguin. His off ice antics were getting out of control and it was clearly affecting his play. After coming off a promising 2011-12 regular season by leading the Bruins with 67 points, Tyler's future was as bright as ever.Then, he got offered a sweet 6 year contract worth 5.75 million dollars a year and everything changed. Finally Seguin's youth began to show and he began making questionable choices and it showed. He finished the year with only 32 points and although this was as many as Bergeron, Bergeron played 6 less games and, as usual, contributed in more than one way. Seguin's role with the Bruins is to gather points and he did not do his job well. To make matters worth, Seguin, unlike most Bruins, got worse when the playoffs came.He tallied up 1 goal, 8 points in 22 games! As if that wasn't atrocious enough, he was also -2 at a time where the Bruins were playing so well. These types of numbers got him demoted to the third line, where he stayed, and eventually got him kicked out of Boston. Not only did the Bruins get rid of a cancer cell, they added a hidden gem in Loui Erikkson. Most people don't realize how valuable and underrated the 28 year old Swedish left wing is. Playing on a not so great Dallas team, Erikkson managed to get his fair share of points. This point total will only go up playing alongside Brad Marchand and Patrice Bergeron. Erikkson will also make Boston a better defensive team as his play style is very similar to Patrice Bergeron. It can be argued that Boston gave up on Seguin too fast, but as of now, they have won the trade. Erikkson will do wonders for this Boston team and the short term advantages are there. Whether or not this trade will come back to haunt the Bruins is not known. Seguin has the potential to be a superstar and this trade may follow in the footsteps of the Phil Esposito trade which really came back to haunt Chicago. But, for now the Bruins win and fans should be excited.
Along with acquiring Loui Erikkson, the Bruins also brought in Jarome Iginla to replace Nathan Horton. Horton came off a less than stellar regular season with 22 points and was a pathetic +1. He just wasn't fitting in and left. So, what does Boston do? They bring in a better replacement.His 11 year streak of 30+ goals may have been snapped this past lockout-shortened season, but that doesn't take away from what Iginla has to bring. He is a proven scorer who has scored with little or no help in Calgary. Playing alongside Milan Lucic and David Krejci will do wonders for the 36 year old who has never seen linemates this good before his stint in Pittsburgh. This line will wreak havoc with Krejci using his playmaking and handles to set up Iggy, Iginla doing what he does best and Lucic banging in the rebounds. Not only will this be a great scoring line, they will be very physical too. Lucic and Iginla both play with an edge and Krejci, the smallest player on the line measuring in at 6'0" is still a big guy. Other teams better watch out for this line heading into the new season.
Player additions aren't the only things that make this Bruins team so great. They have a solid farm system which has produced some great players. Dougie Hamilton tops this list. He's a 6'5" and 199 lbs smooth skating 20 year old D-man who impressed a lot of people during his rookie year. His size alone is eye-popping but that combined with his great skating ability and solid defensive play make Hamilton's potential limitless. The first year player is only 20 years old and is coming off a good rookie year. He finished with 16 points in 42 games and was a plus 4. The future is extremely bright for this young man, along with the Bruins as a whole. Most of their core is in their, or just entering their prime which is a wonderful thing. Not only can the Bruins boast having one of the best cores in the NHL, they also have some amazing depth players to go along with it.
Need I say more? This video is the perfect example of the depth the Bruins possess. Boston has an abundance of role players such as Gregory Campbell, Chris Kelly, Daniel Paille and Shawn Thornton. The players mentioned above and the rest of Boston's roster has the greatest heart in the NHL. Any of them are willing to do anything it takes to win. This video is a prime example. Gregory Campbell takes an Evgeni Malkin slapshot to the leg. This shot breaks his leg and what does he do? He finishes the penalty kill against one of the best offenses in the NHL. He doesn't just lie there. He gets the job done. This is exactly what it takes to win, especially in the NHL. Heart and soul. Both which the Boston Bruins possess.
Although many things have changed since the Bruins won the greatest trophy in all of sports in 2011, Boston has still remained a contender these past few years. They have been a solid team but were never considered favorites, until this year that is. The 2013-14 Boston Bruins will be a terrifying team because they have kept their core in tact, Tuukka Rask is emerging as an all-star goalie, the additions of Erikkson and Iginla will do nothing but help, they possess good homegrown talent and have one of the deepest teams in the NHL loaded with heart and soul that is second to none. The rest of the NHL better watch out because the Bruins are going to catapult all the way to the top this year.
Follow me on Twitter @WarraichRoop