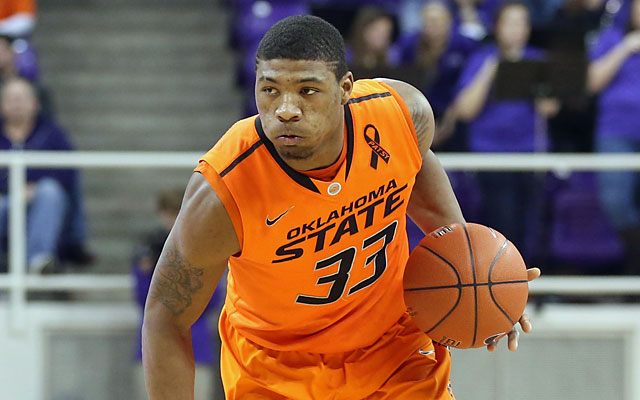 Oklahoma State's Marcus Smart - Photo Credit: CBS Sports
Who would have thought that College Basketball would have started as crazy as it has? Duke is already struggling at 6-2 and rank 10th in the rankings right now, while North Carolina and Marquette, who are usually two of the best teams in the nation are not even ranked. It's crazy how things change over a year.
This is how the top 25 shaped out for Week Five.
Michigan State
Arizona
Kentucky
Syracuse
Ohio State
Kansas
Louisville
Wisconsin
Oklahoma State
Duke
Wichita State
Connecticut
Oregon
Villanova
Florida
Memphis
Iowa State
UCLA
Gonzaga
Baylor
Massachusetts
Michigan
Iowa
San Diego State
Dayton
SURPISING TEAM SO FAR: #8 WISCONSIN BADGERS, 8-0
Call me biased, but nobody expected a new-look Wisconsin team to jump out to the unbelievable start that they have. Sophomore Sam Dekker is one of the most consistent players in the nation right now, averaging 14.8 points-per-game and 5.5 rebounds-per-game. That's some solid support from a guy who not a lot of people knew about coming into this season. Guard Ben Brust is entering his final season with the Badgers, and has continued to show why he's been starting since his sophomore season. Brust leads the Badgers in three-points made with 20 so far, and he is a pretty solid shooter from downtown, averaging .43-percent. Oh, and who can forget the man that dropped 43 on North Dakota a couple weeks ago? Averaging a team-leading 15.8 points-per-game, senior Frank Kaminsky is making a name for himself.
WHAT HAPPENED TO THEM?: INDIANA HOOSIERS, 6-1
Apparently Cody Zeller is taking a toll on the struggling Hoosiers. The team that was called "the best" the last two seasons, is no longer even ranked in the top 25. Despite putting up the 19th best scoring average in the nation with 86.4 points-per-game and only losing to a strong Connecticut team, the Hoosiers can't find a break to get into the top 25. With five teams in the Big Ten currently in the top 25, the Hoosiers schedule is not going to get any easier, playing fourth-ranked Syracuse and top-ranked Michigan State later in the season. Sophomore guard Yogi Ferrell is really playing well, averaging 18.1 points-per-game and 3.6 rebounds-per-game. Beyond Ferrell, Freshman Forward Noah Vonleh is averaging a strong 12.9 points-per-game and 10.4 rebounds-per-game. Beyond the two young-guns, the team is not playing very well.
EARLY WOODEN AWARD CANDIDATES?
Ninth-ranked Oklahoma State has the best player in the nation in my opinion in sophomore Marcus Smart. Smart is currently averaging 20.5 points-per-game, 5.0 rebounds-per-game, and 3.6 assists-per-game for the 7-1 Cowboys. Other candidates are freshmen Jabari Parker of Duke, Julius Randle of Kentucky, and Andrew Wiggins of Kansas.
Follow Me on Twitter! @LetsGoAlex | Tru School Sports Leader