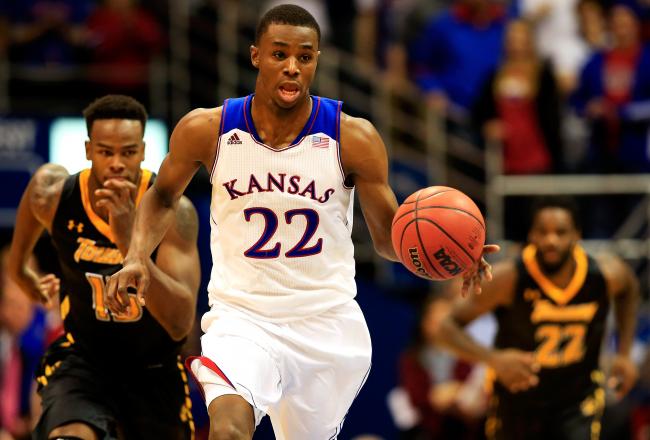 Kansas freshman Andrew Wiggins was one of the most highly recruited basketball players and has made the most noise for a NBA hopeful since, you guessed it, LeBron James. Over social media, a lot of fans want their team to
#TankForWiggins
, but in reality, what does that do for your franchise?
"We're all getting paid millions to play a game we love, let's go lose 60 games!" "Good idea, Coach!" The idea of tanking just makes me want to punch something. Why in the hell would you go out and just do horrible for the majority of a season to get a prospect who has not even established themselves at the highest level?
There's a thick line between tanking and just plain sucking, and the Denver Nuggets of 2002 and 2003 landed on that border. The 2003 draft class included some of the top players in the game today, like LeBron James, Carmelo Anthony, Chris Bosh, Dwayne Wade and Pacers Forward David West. The Nuggets had the worst record in 2002-2003 (tied with the Cleveland Cavaliers, 17-65) and ended up with the third pick in the 2003 NBA Draft. The Cavaliers picked first and got LeBron James, the Pistons picked up Darko Milicic (no longer in the league) and the Nuggets got Carmelo Anthony. Anthony gave the Nuggets his services for less than eight seasons, never leading them anywhere past the Conference Finals in 2009 before leaving for the Knicks in 2010-11.
The Cavs picking up LeBron was a totally different story besides the fact that he left them as well to go join the fourth and fifth overall picks Dwayne Wade and Chris Bosh in Miami.
The 2014 NBA Draft is going to be similar to the 2003 draft, if Jabari Parker (Duke), Andrew Wiggins (Kansas, above), and Julius Randle (Kentucky) all enter as freshman. The Utah Jazz, Milwaukee Bucks and New York Knicks are all tied for the bottom of the NBA standings right now, so throw their names in as early lottery picks.
Follow Me on Twitter! @LetsGoAlex | Tru School Sports Leader