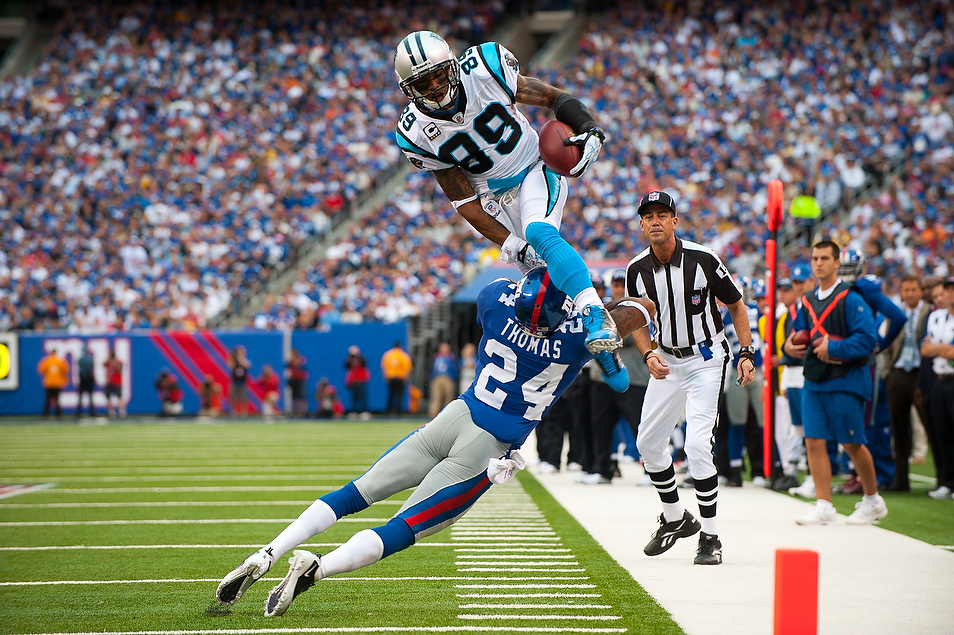 Before the 2001 NFL Draft teams told Steve Smith that he was to short to play WR in the National Football League.
The other day
Tru School Sports
creator,
Brendan Taylor
, posted a video on
YouTube
entitled
"Is Steve Smith An NFL Hall of Famer?"
At first The Informer read the title and thought Mr. Taylor had lost his mind. Don't get me wrong,
Steve Smith
has had a couple of pretty good seasons, but there is no way this guy is a Hall of Famer.
If anything Smith belongs in the hall of very good.
Even though the argument seemed a little ridiculous, as the self proclaimed higher authority on all things NFL wide receivers, The Informer felt it was his duty to watch the video before passing judgement on Smith's career.
Truthfully, it is a good thing The Informer waited to pass judgement, because after the clip he came away thinking that his initial reaction was wrong.
Maybe . . . Just maybe Brendan was on to something here.
It could actually be plausible to say Steve Smith is a future
NFL Hall of Fame
wide receiver.
Here are the supporting facts:
Currently Smith is in the Top 25 All-Time for receiving yards and moving up.
If Smith can have two or three more years of semi-competent receiver player then it is not inconceivable to think he could move into the Top 10 (He only needs 1,813 yards to pass
Henry Ellard
for 10th all-time).
Keep in mind the guy is only 34-years-old so three more years at a semi-high level, with
Cam Newton
as his quarterback, is not totally far-fetched.
Smith also has 818 career receptions, meaning if he retired tomorrow he would finish 26th all-time. However, if he can produce 102 more receptions in his career (At this pace he will add roughly 40 more this season alone) Smith will move into the Top 15 all-time.
Hmm . . . Possible Top 10 in yards and Top 15 in receptions? The Informer is starting to like this idea.
In 2005, even though the
NFL
had names like
Randy Moss, Larry Fitzgerald, Terrell Owens, Marvin Harrison, Reggie Wayne
and
Chad Johnson
, Smith led the league in receptions, yards and touchdowns.
To put that in perspective: Since 1990 only
Jerry Rice
(1990) and
Sterling Sharpe
(1992) have accomplished the "Triple Crown" for a wide receiver.
Furthermore, Smith achieved his "Triple Crown" despite being the first player since
Art Monk
in 1984 to lead the league in receptions while playing on a team that ran the ball more than it passed.
Moving along, as a rookie in 2001 Smith became the first punt/kick returner to make the
NFL Pro Bowl
in eight years. Also during his rookie season the Panthers standout finished with 1,994 total yards (1,795 return yards); which was good enough for the fourth most all-purpose yards in the NFL.
The Informer thinks those two stats are important because it shows Smith was a dynamic football player from day one, adding to his consistency and length of greatness.
In addition to the length of his greatness, it should be noted that Smith was the best player on a Panthers team that made two straight
NFC Championship Game
appearances and one
Super Bowl
.
In fact, during the 2003 Playoffs Smith's 404 yards were the second most ever by a WR (Only 1988 Jerry Rice was better with 409). So, not only was he a dominant regular season player, he stepped his game up and shined in the postseason as well.
Honestly, there is only one real negative argument to keep Smith out of the Hall of Fame: touchdowns. Currently the 13-year veteran has 66 receiving touchdowns while only having one season with more than 10 TD catches (2005).
Don't get The Informer wrong, 66 is a decent number (Good for 42th all-time by a WR). But we have to remember this is not the hall of decent numbers.
Overall the yards, receptions, special teams contributions and playoff success should outweigh the touchdowns. Nonetheless, for a guy who some would call a borderline Hall of Famer, the lack of end-zone trips could be an issue.
On the other hand,
Michael Irvin
is in the Hall with fewer touchdowns, receptions and yards than Smith so maybe the lack of touchdowns is a moot point.
As for only having one season with 10+ TD, it turns out of the 21 players ahead of Smith on the all-time receiving yards list; seven off them only had one season of more than 10 TD receptions. Basically the stat doesn't hold near as much weight as The Informer thought it would.
So what is the best "Smith should be in the Hall" argument?
The Informer thinks it is the fact that the Panthers star currently has seven seasons with at least 1,000 yards receiving. For those scoring at home, seven seasons of 1,000 yards is historically good.
Did you know: Only 18 players have ever had at least seven seasons of 1,000 yards?
(
The Informer note
–
Fitzgerald, Andre Johnson, Marques Colston
and
Brandon Marshall
can join the group if they reach the 1,000 yard mark this season. Also
Detroit Lions
star
Calvin Johnson
just went over the 1,000 yard mark for the sixth time in his career this past weekend.)
The Informer truly thinks seven seasons will be enough for Smith; especially since the majority of those numbers came with "
Jake
daylight come me want to
Delhomme
" as his quarterback. However, it sure wouldn't hurt the cause if the Panthers star added one more 1,000 yard campaign (He has 512 yards this year with six games remaining).
Ultimately the biggest road block in Steve Smith's chances are the wide receivers ahead of him who are either still waiting to get in, or will be coming up for enshrinement in the next few years.
Andre Reed, Tim Brown, Jimmy Smith, Isaac Bruce, Torry Holt, Hines Ward, Derrick Mason,
Marvin Harrison, Randy Moss, Reggie Wayne and Terrell Owens are all going to be looking for their gold jackets in the very near future.
Here is the thing; all of the guys mentioned above actually have better resumes/stats at this time.
Don't get me wrong stats are not everything, The Informer is just pointing out that there are at least 10 other receivers who will be fighting for the same votes when it comes time for Smith's career to be considered.
The Informer's point is simple: The so-called
log jam for the wide receiver position
in the Hall of Fame is real. Just look at last year when only three receivers even made the final 15 (five guys are enshrined each year).
Of the three,
Chris Carter
was the only one selected. Now keep in mind when Carter retired he was Top 10 in receiving yards, receptions and touchdowns; yet he still had to wait six years to get his name called.
So while The Informer's mind has been changed and he now feels Smith is definitely
Canton
worthy, the reality of the situation is it could be an uphill climb.
Then again, when Smith does retire, he will have the Carolina's franchise record for receptions, receiving yards and touchdowns while holding the title of the greatest Panthers player in team history (Cam Newton's application pending of course).
Just saying, if the
NFL HOF
is a representation of each of its 32 team's history; then it would not be justifiable to leave out one the teams greatest player –right?
Final verdict:
It is going to take a couple of years, but eventually Smith will be recognized and enshrined into the
Pro Football Hall of Fame
.
LIST OF MOST NFL SEASONS WITH 1,000 YARDS RECEIVING AND 10+ TD
1. Jerry Rice: 14 1,000 yard seasons and nine with 10+ TDs
2. Randy Moss: 10 1,000 yard seasons and nine with 10+ TDs
3. Terrell Owens: nine 1,000 yard seasons and eight with 10+ TDs
4. Jimmy Smith: nine 1,000 yard seasons (zero 10+ TDs)
5. Marvin Harrison: eight 1,000 yard seasons and eight with 10+ TDs
6. Chris Carter: eight 1,000 yard seasons and eight with 10+ TDs
7. Reggie Wayne: eight 1,000 yard seasons and three with 10+ TDs
8. Torry Holt: eight 1,000 yard seasons and three with 10+ TDs
9. Isaac Bruce: eight 1,000 yard seasons and two with 10+ TDs
10. Derrick Mason: eight 1,000 yard seasons (Zero with 10+ TDs)
11. Tim Brown: eight 1,000 yard seasons and two with 10+ TDs
12.
Lance Alsworth
: seven 1,000 yard seasons and five with 1-+ TDs
13.
Rod Smith
: seven 1,000 yard seasons and two with 10+ TDs
14. Michael Irvin: seven 1,000 yard seasons and one with 10+ TDs
15. Steve Smith: seven 1,000 yard seasons and one with 10+ TDs
16. Henry Ellard: seven 1,000 yards seasons and one with 10+ TDs
17.
Chad "Ochocinco" Johnson
: seven 1,000 yard seasons and one with 10+ TDs
18.
Donald Driver
: seven 1,000 yard seasons (Zero with 10+ TDs)