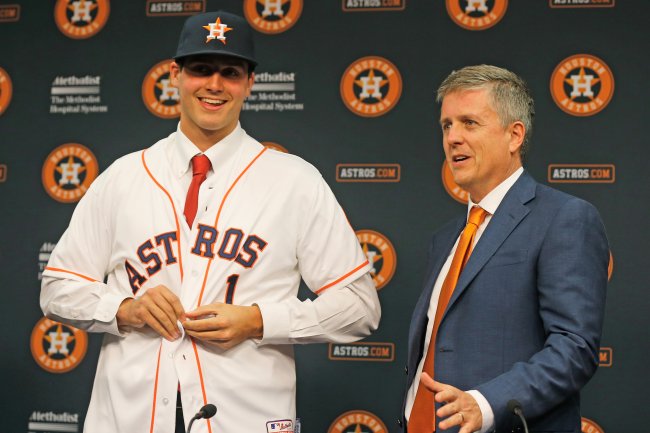 Over the past few years, the Houston Astros have been regarded as the worst team in baseball. Their fan base has felt hopeless in that period of time, and seem to have lost a bit of faith in the Astros organization. However, not that long ago the Washington Nationals were in that same position - the laughing stock of baseball. In 2012, Washington made it to the postseason after playing years of unsuccessful & disappointing baseball. So, how did they turn it around back in 2012?

With all the games Washington lost in those years leading up to their postseason appearance, they received very high picks in the MLB Draft. Losing a ton of baseball games has its benefits, as the only silver-lining in a disappointing season is the MLB Draft the following summer. The Nationals used their picks to acquire great young talent, and those young talents have turned into some of the MLB's top players.
From 2008 to 2011, Washington had 5 top 10 picks in the MLB Draft. They used those picks to draft guys that they felt could help their team in the long run. These names might sound familiar:
Aaron Crow (9th overall, 2008)
Stephen Strasburg (1st overall, 2009)
Drew Storen (10th overall, 2009)
Bryce Harper (1st overall, 2010)
Anthony Rendon (6th overall, 2011)
With the exception of Aaron Crow - who never signed with the Nationals - & Anthony Rendon - who was still in the minors - all of those players were big contributors to Washington's success in 2012, and have become household names in Major League Baseball. So what does that mean for the Astros?
When you look at the players that the Astros have drafted in the first round in the past three years, they have all been playing fairly well in the minor leagues. Delino DeShields Jr. (8th overall, 2010), Mike Foltynewicz (19th overall, 2010), George Springer (11th overall, 2011), Carlos Correa (1st overall, 2012), & Mark Appel (1st overall, 2013) may not be big time major league players yet, but they certainly will be in the near future. There's a reason they were all drafted in the first round. They all have the potential to be household names in the majors at some point in the near future.
The Nationals went from worst-to-first in the NL East in the span of two short years, and the Astros can certainly do the same in the AL West. With that being said, Astros fans have plenty to look forward to in the next few years. The Astros probably won't do well in 2014, but the young talent that they have in the minors right now will surely make an impact when they get to the majors. The future is bright here in Houston, and I expect this team to make a run in the postseason within the next few years.
Follow me on Twitter
@antonjoe22
!