Coming off a season in which they only won 24 games, the Cleveland Cavaliers have revamped their squad with young talent & explosive offensive players. They should be a team to watch out for this upcoming season, as they are poised to make some noise in the Eastern Conference. Here are five bold predictions that I have for the Cleveland Cavaliers this upcoming season:


5. Anderson Varejao Gets Traded
When healthy, Anderson Varejao is a solid player for the Cavaliers. The problem is that he hasn't been able to stay healthy for quite some time now. He's only played a total of 81 games since LeBron James left Cleveland in the summer of 2010. Varejao, 31, is entering his 9th season in the NBA, and again, if he can stay healthy he will be a key piece to the Cavaliers success. However, with newly acquired big-man Andrew Bynum, and 2013's No. 1 overall pick, Anthony Bennett, Varejao might find himself taking on a reduced role on this year's Cleveland squad. His career highs for both rebounds & points per game in a single season are 14. With that being said, I still think he has the ability to average a double-double, but as a 6th man or a role player, Varejao's potential won't be maximized. If I was Cleveland, I would trade Varejao. I'm sure an NBA team will give up a potent scorer to tag along with Kyrie Irving, & company, to acquire a double-double machine like Anderson Varejao.


4. Jarrett Jack Wins 6th Man Of The Year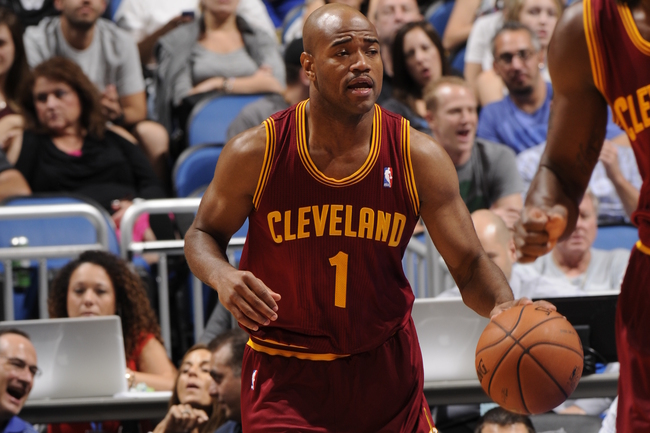 The soon to be 30-year-old (October 28th) was acquired by Cleveland back on July 12th, 2013, when he signed a 4-year, $25.2 million deal. Jarrett Jack will definitely be the 6th man for the Cavaliers this season, as I project Dion Waiters, and obviously, Kyrie Irving to be the starting back-court for Cleveland this upcoming season. Jack is all too familiar with the 6th man role. Last season while playing for the Golden State Warriors, Jack averaged a shade under 13 points, and 5.6 assists per game. He got an average of about 30 minutes a game off the bench last season, so when given solid minutes, Jack can certainly make an impact on the hardwood. He'll also provide a defensive presence out on the perimeter for Cleveland, which could help them win a lot more than 24 games. Expect big things out of Jack this season, as he will serve as a leader off the bench for this young Cleveland team.
3. Cleveland Waives Andrew Bynum
I project Andrew Bynum & Tristan Thompson to be Cleveland's starting front court for the beginning of the 2013-2014 season. However, I don't expect it to end that way. Let's face it, Andrew Bynum will never have an impact like he once had when he played for the Los Angeles Lakers. His knees are clearly giving out, and the fact that he turns 26 this Sunday doesn't help matters, either. I mean, look at the picture above. Street clothes have been Bynum's uniform for quite some time now, and it's most likely going to be worn more than his #21 Cleveland Cavaliers jersey this upcoming season. Bynum's 2-year, $24.8 million contract has a $6 million buyout option that can be used in January, and I think the Cavaliers will have to use it because Bynum will prove he's NOT worth the money. If they don't use the buyout option in January, they can buy him out at the end of the season for $12 million. The January buyout seems more likely, though. There's no way Cleveland burns through their pockets for a guy who's not even going to be playing. His 18.7 points & 11.8 rebounds a game production will never happen again for Bynum. He will show flashes of his old self, no doubt, but the consistency will be something that Bynum will struggle with this upcoming season. That lack of consistency will promptly end Bynum's days in Cleveland, and possibly his days in the NBA.
2. Anthony Bennett Becomes A Starter For Cleveland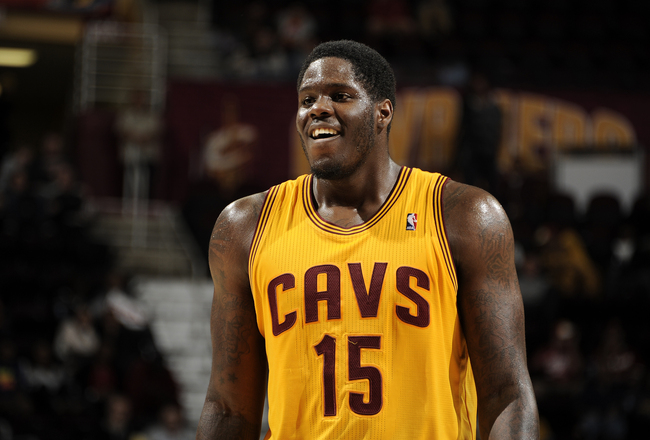 The previous prediction leads me right into this one. When Bynum is cut by the Cavaliers, along with Anderson Varejao getting dealt, Cleveland's #1 overall pick in last summer's NBA Draft, Anthony Bennett, will certainly be named a starter. Most NBA fans are skeptical of Bennett's ability to live up to the hype surrounding a #1 overall pick, but I think Bennett will be a key contributor to Cleveland's success. He has the range to shoot the ball from just about anywhere he wants, which will add another offensive weapon to the Cavaliers' already stacked arsenal. With Bennett being a threat on offense, either one of two things will happen.
A) Teams will refuse to respect his shooting range & Bennett will sink shot after shot
OR
B) Teams will over commit to containing Bennett & it'll open up scoring opportunities for the Cavaliers - especially Kyrie Irving
If Bennett can sink shots from outside the painted area consistently, expect him to be a starter at some point in the 2013-2014 season. However, Bennett suffers from asthma, and with that being said, his conditioning is not where he - or the Cleveland Cavaliers - wants it to be. If his asthma becomes a problem, he will obviously play limited minutes for the Cavaliers this season. Personally, I think Bennett will power through the obstacle, and be a great player to watch this upcoming season. With little expectations for the 2013-2014 season, Bennett will have time to adjust to the NBA, and will definitely turn some heads in Cleveland.
1. The Cavaliers Make The Playoffs
With the additions of Jarrett Jack, Anthony Bennett, & even head coach Mike Brown, the Cavaliers are poised to be contenders for the postseason this year. Their offense will be tough to stop if they can get consistency out of their young stars, and if Kyrie Irving can elevate his game to the next level this Cleveland squad will be tough to stop. What I mean by "elevate his game to the next level" is that Irving needs to pass the ball around a little more and involve his teammates now that he has weapons on offense around him. He will always be a scorer, no doubt, because that's the strength of his game, but with big men like Tristan Thompson & Anthony Bennett, who are poised to have a breakout year, Kyrie's ability to get his teammates involved will be key to Cleveland's success. He averaged 22.5 points a game, but only averaged about 6 assists a game last season. I think Irving has the potential to be a 20-10 guy this season. If he can get those assists up while still racking up points, the Cleveland Cavaliers will be a team to watch out for come April. I predict they'll finish the season 40-42 while grabbing a playoff spot between the 6th seed & the 8th seed.