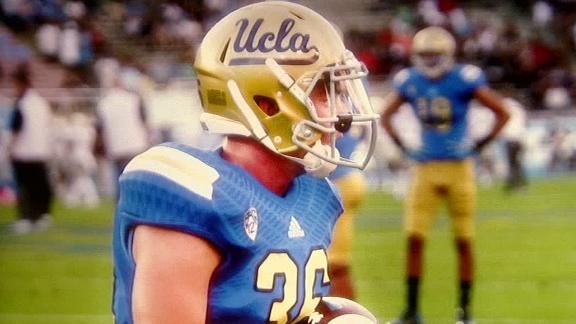 Sadly, we've all heard of tragic events in the sports world. Some more tragic than others. Some that we can relate to. Some that we can only imagine how difficult it must be to cope with. However, the story of Nick Pasquale really touches me because it's something that I can relate to pretty well.
Nick Pasquale was a red-shirt freshman at UCLA who walked-on to the team last fall. He was a three year starter at San Clemente High School. Standing at 5'7" tall and weighing 172 pounds, Pasquale's story doesn't begin as a UCLA Bruin, or as a student at San Clemente High School. It begins with Pasquale playing Pop Warner football. According to fellow teammate Carl Lulick, Pasquale was diagnosed with a rare bone disorder in his hips that left him in a body cast, instead of in a football uniform. Pasquale never talked about it until one day, Lulick found an old picture of Pasquale in a body cast. Pasquale told Lulick why he was wearing a body cast, but didn't ask him for sympathy. He asked to play football in a UCLA Bruins uniform.


Pasquale's only dream was to play Bruins football. It had been his dream ever since he was a little boy, and on August 31st, 2013, Pasquale's life-long dream came true. As UCLA held a commanding 58-20 lead over Nevada late in the 4th quarter, the 20-year-old played only one snap, as that would be the only play of his UCLA career.
Eight days after living his childhood dream, Pasquale was struck & killed by a car as he was walking home from a friend's house. The driver of the car that struck Pasquale immediately called 911 & was by Pasquale's side until authorities arrived, but Pasquale had unfortunately died at the scene.
The Bruins played their next game with heavy hearts, as they took on Nebraska in one of their toughest games of the season. Nebraska fans, as well as the UCLA fans who showed up to Memorial Stadium in Lincoln, Nebraska, honored Pasquale prior to the game with a moment of silence. All 91,471 people stood in silence to remember a life taken too soon. Nebraska jumped out to a 21-3 lead, but miraculously the Bruins scored 38 unanswered points to pull off a 41-21 victory. The real tribute didn't come until UCLA's next game, when they started their game against New Mexico State with 10 men on the field to honor their fallen teammate. It symbolizes that they will never forget Nick Pasquale. Take a look for yourself at this truly amazing act:
Pasquale was described by teammates & coaches as "hard working", "tough", "fearless", and showed a "selfless work ethic". Although he stood just 5'7" tall, coaches & players said that he played like he had no concept of his own size. He wasn't afraid to mix it up with anyone on the field because he always felt like he was going to win.
So how do I relate to this story? When I was in the 8th grade, my school football team was undefeated & headed to the district championship. Two days before the big game, one of the players committed suicide. That player was a student, a friend, and was loved by many. He sat right next to me in class, and to this day I'm still saddened by how his life ended. My school honored him by holding a moment of silence before class began. Although, our school lost in the district championship game, they honored him by wearing his jersey number on their helmets & socks. I've been through something that tragic, and unfortunately all of us have at one point or another. I think as people, it's hard for us to accept the fact that grief is a part of life. It's something that we will all go through in life. So today, I'd like anyone who's reading this to tell your loved ones that you love them because you never know when the last opportunity to do so will present itself.