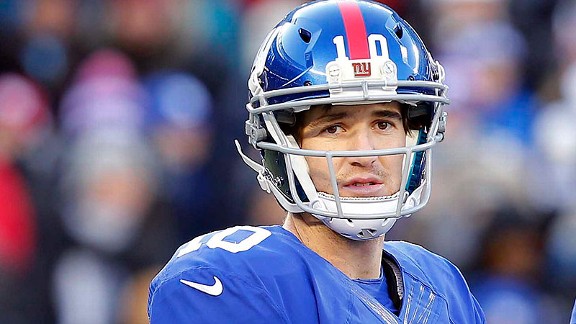 If I asked over 1,000 NFL fans which starting quarterback is struggling the most as of Week 6, I'm pretty sure I'd have a top answer. Just to make sure, I did just that. I got a specific answer, and I got an answer with two quarterbacks.
@TruSchoolSports Matt Schaub or Eli.
— Karl Buscheck (@KarlBuscheck) October 12, 2013
@TruSchoolSports Eli Manning. He is a turnover machine... and then we remember he's on offense. #Needs2Improve #TSS #Nfl
— Matthew Price (@Ecript99) October 12, 2013
The answer I was hoping to get, was Eli Manning. Obviously, it's very surprising that he has been struggling to the point of a 0-6 start. The Giants lost for the sixth straight week against the Chicago Bears on Thursday night. The non-MVP for the Giants? Eli Manning, yet again. Let's take a look at his stat-line.
14-for-26, 239 yards, 1 touchdown, and 3 interceptions.
Now let's do some math. Eli Manning has thrown 15 interceptions through six weeks. Last season, Manning through a total of 15 interceptions, to go along with 26 touchdown passes, while this years, Manning has only thrown nine. His brother, Peyton, threw two less than that in one game.
Why is Eli struggling so badly? He is a two-time Super Bowl MVP and now talks about him getting benched are swirling. Curtis Painter took over for Eli's brother Peyton two years ago while he was injured, and lead them to the worst record in the NFL, so why not give him a chance? Oh wait, I just said why. Tebow Time in New York, again?
Alright, enough joking around. Eli Manning needs to get his act together. He's making the worst division in football look a lot worse. Tony Romo almost beat the Broncos, debatably the best team in football. The Redskins are playing almost as bad as the Giants at 1-3.
Eli Manning, sir, you're playing horrible. Don't get benched and get a W. Sincerely, everyone in New York, New Jersey, and the 48 other states.
Follow Me on Twitter! @LetsGoAlex | Fantasy Football Writer