Follow me on Twitter @WarraichRoop
It`s the greatest time of the year, and no I am not referring to the holidays. The NHL is back baby, and could we have asked for anything more? Spectacular goals, miraculous saves, bone-crunching hits, and of course, hours of entertainment. The season's been everything we expected, but there have also been many things no one saw coming. That's the great thing about the NHL. Unlike the NBA, it leaves us surprised. There aren't just a few teams fighting it out for the championship or superstars continuously dominating the game. Obviously there are better teams and superstars capable of great things in the NHL, but there are way more surprises. Any team has a shot at the Cup. Players can come out of no where and steal the show. So, without further ado, here are the top 5 surprises of the young NHL season.
*Note: all these stats are from October 12, 2013*
5) Joffrey Lupul
Lupul can score goals. Need I say more? The man has 16 goals in 19 games dating back to last year. He is a scoring machine. Everyone knew he could put the puck in the back of the net, but who could've predicted this unbelievable pace? He's on pace to score 68 goals this year for crying out loud and is a huge reason why the Leafs sit on top of the Eastern Conference with 10 points. Now I don't expect Lupul to keep up this monstrous pace, but he's proven me wrong before. Maybe he'll do it again.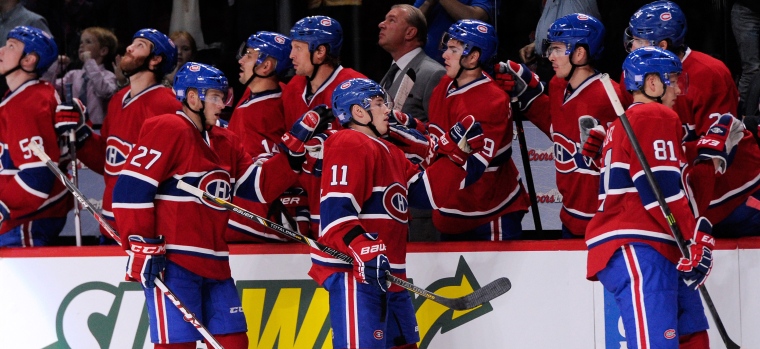 4) Canadiens' Youngsters
Number four features a Montreal team that is off to a mediocre start this season, but its young players have really raised some eyebrows. Subban already established himself as a star last year after being nominated for the Norris, and he's doing nothing but re-emphasizing his status. The 24 year old is off to a great start with 6 points in 4 games. Now, let's get to the real treat. Lars Eller, Alex Galchenyuk and Brendan Gallagher have been nothing short of amazing. The three have combined for 18 points in 4 games and are a combined
+13. To put this into perspective, the rest of the team has 18 points combined and is only a +6. This is including Subban's 6 points and +4 rating. Without Subban in the picture, the team has 12 points and a combined +/- rating of +2. These 4 players, specifically Galchenyuk, Eller and Gallagher, who are an average age of 21, have been nothing short of sensational.
3) The Calgary Flames
Coming in at number three are the pesky Calgary Flames. They are off to a hot (pun intended) start, and you're lying if you say you predicted it. After finishing near the basement of the Western Conference last year and 25th in the league, things didn't look so bright for Calgary. The departure of their longtime captain Jarome Iginla and retirement of Miikka Kiprusoff didn't help either. This team was predicted by many, including myself to finish dead last in the NHL, but boy have they proven everyone wrong. The Flames have yet to lose in regulation and are 4th in the West with 8 points, largely in part to Jiri Hudler who has 7 points in 5 games. Hudler is off to a solid start, but he certainly isn't a star-caliber player. In fact, no one on this team is. So, how exactly are they winning? Hard-work, hustle, and some more hard-work. Who knew winning was this simple?
2) The San Jose Sharks
The runner-ups of this list are the San Jose Sharks, who are off to another incredible start as they are only 1 of 3 remaining NHL teams that have yet to be defeated. Through 4 games, in which they've played the Canucks twice, San Jose has outscored their opponents 21 to 5! It's not like their goals are because of luck, either. The Sharks are working for them as evidenced by their ridiculous average of 40.5 shots per game. As if their offense wasn't bad enough, their defense has been lights out as well, allowing a mere 22.6 shots against per game. That's the second lowest in the NHL and the shot differential of +17.7 is mind boggling. Oh and did I mention they're doing all of this without Brad Stuart. Everything has been going right for this team, offense, defense and goaltending. Antti Niemi is quietly continuing his strong play from last year with a 1.40 GAA. To make things even better, it's isn't just Thornton, Marleau and Boyle scoring. Players have stepped up. Couture has taken another step towards stardom, as he has 6 points in 4 games and is a +6. Marc-Edouard Vlasic is off to a surprising start; he has 5 points and is a +7. But, the biggest surprise has to be the 19 year old from the Czech Republic. Yes, you guessed it, Tomas Hertl. Talk about surprises. No one, and I mean NO ONE saw this coming. Czech (tired of my puns yet?) this out. The center has 6 goals, 7 points and is a +6 in 4 games. He's on pace for 123 goals. Gretzky who? I kid, but let's get back to the stats. He's winning 83.3% faceoffs! That is unheard of. In a league where 50% is considered good, 83% is insanity. Wait, there's more. He only plays 15 minutes a game. Talk about amazing. The future's bright with this one. As for the present, I'd be scared to be playing the Sharks right about now.
1) The Colorado Avalanche
Is it too early to call Patrick Roy a genius? A lot of people weren't sure of this hiring, but I always supported it. I felt Roy was the perfect man for the job, but not even I saw this coming. The Colorado Avalanche are 1st place in the NHL. Let that sink in. After a more than disappointing 2012-13 season in which the Avalanche finished dead last in the West, they have come charging out of the gates. Roy has single-handedly turned this franchise around. They are undefeated and this isn't because of an easy schedule or a home stand. They've played the likes of Boston and Toronto, two brilliant teams that have only lost once this season. Also, Colorado has played more road games than home games. Their success can be credited to their brilliant team play. The Avalanche have outscored their opponents 18 to 4. The young guns are leading the way. Mackinnon, Duchene, Parenteau, and O'Reilly are all off to solid starts. Also, the team's defense has been nothing short of solid. Oh and there's this guy named Semyon Varlamov you may have heard of. It's not like he has a 1.00 GAA and .970 SV% or anything, oh wait, he does. The Russian goalie has been dynamite. The amount of success this team has had is unreal, especially since it is virtually the same team as last year. I think the label genius is fitting for Patrick Roy.
Follow me on Twitter @WarraichRoop